Kitchen & Bathroom Remodeling
Kitchen Remodeling for Growing Families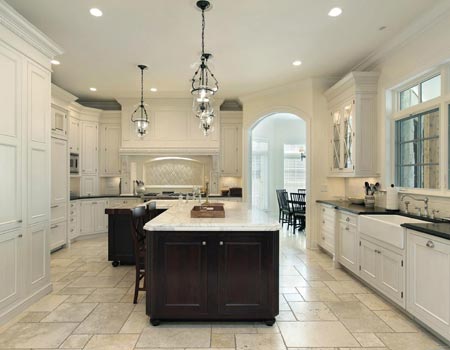 Modernize the most important rooms in your home with our approach to kitchen remodeling. Your kitchen is the heartbeat of your entire home, and it serves as a place for family gatherings and neighborhood parties. Make your kitchen a place you can be proud of by scheduling a visit with one of our design specialists today.
Whether you are interested in just replacing the cabinets in your kitchen or planning a full bathroom remodel, our team is the first name to turn to. We maximize the value of every dollar in your budget, so you get a bathroom that matches the way you live your life. Explore new and exciting opportunities for kitchen renovation with the help of our advanced design software.
Choose from a broad variety of exciting options when planning any bathroom renovations, and get the look you have always dreamed of. If your home is looking a little worse for wear, and you need a cost-effective way to boost the resale value of your residence, our team has an answer for you. Start the process today with a free consultation and room measurement from one of our experienced contractors.
Make Your Bathroom Remodel a Success
Eliminate the guesswork and endless confusion surrounding a full bathroom remodel by establishing a partnership with our group of contractors. We ask you the important questions about your approach to style and the way you live your life. With this information we can then give you a series of recommendations for new cabinets, fixtures, and even tile.
When your kitchen needs a new spark of creativity and added functionality, our 20/20 design software really makes a difference. You can see exactly what your new design will look like before proceeding with any work with our innovative approach to kitchen renovation.
Bathroom Renovations with Results
Save time and money while enhancing the overall functionality of your home by choosing our team for bathroom renovations. When you have a large family, you need a bathroom with additional storage options and a signature look that can please everyone. Our team provides you with everything you need, and we work closely with you and your contractor to ensure you are completely satisfied.
Our new cabinets and fixtures are always competitively priced, so you are able to get more of what you want with your existing renovation budget. We are focused on creating a living space that fits your needs, while saving you time and money in the process. Instead of juggling a series of contractors for different rooms in your home, hire one full-service remodeling company for all your renovation and remodeling needs.
Contact us today for our adaptable design process and kitchen remodeling that makes a difference. We proudly serve clients in Phoenix, Peoria, and surrounding communities.